Bled
- Local and Tourist Information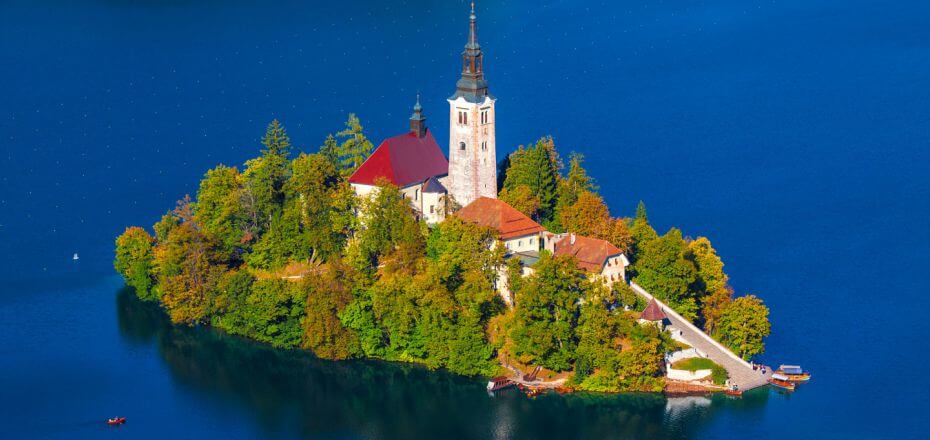 Lake Bled
Lake Bled, together with its surroundings, ranks among the most beautiful alpine resorts, renowned for its mild, healing climate and thermal lake water. The beauty of the mountains reflected on the lake, the sun, the serenity and the fresh air arouse pleasant feelings in visitors throughout the year, guaranteeing an ideal base or a relaxing break or an active holiday. Bled attracts businessmen, artists, athletes, explorers, sport enthusiasts, the old and the young, from all over the world, enchanting them to return again and again.
Bled has a mild, healthy sub-Alpine climate with the longest swimming season of any Alpine resort. The ridges of the Julian Alps and the Karavanke protect it from the northern winds. During the summer months there is no fog. The average monthly temperature in July is 18.7°C and in January -1.2°C.
Bled is an ideal destination for active holidays. Rowing and surfing on the lake, angling, kayaking and rafting on the Alpine rivers, riding in nature and climbing the surrounding mountains, cycling and golfing, ballooning and parachute gliding. Winter activities include walking and hiking, skating l, cross-country skiing , alpine skiing in the nearby hills and night skiing.
An international Violin Festival takes place annually in the last days of June and in July, at different locations in Bled and its surroundings. Every year over the 4th weekend of July there days of fairs and concerts. The event culminates in fireworks and the lighting of thousands of candles on the lake. Every August Bled hosts an Ethno festival with performances of Slovene and foreign ethno musicians of world renown.