Maribor
- Local and Tourist Information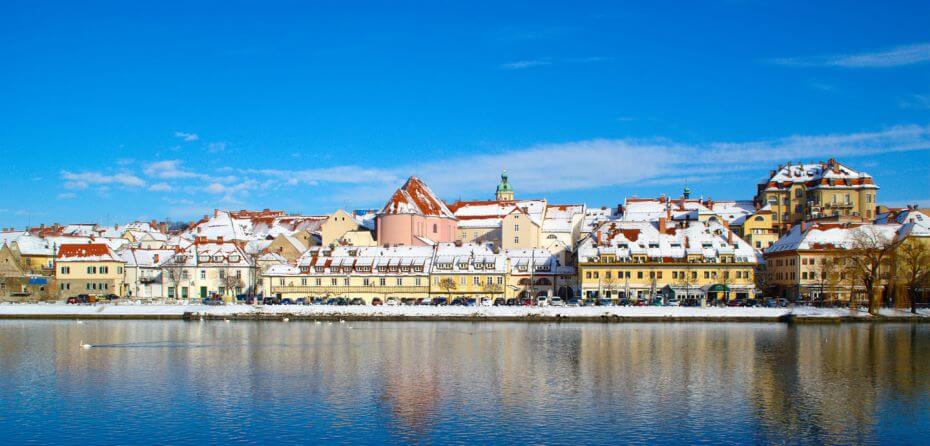 Maribor, Slovenia's second biggest city, is the centre of the Stajerska region. It is situated along the banks of the Drava river and set against the backdrop of the Pohorje mountains and rolling vine-covered hills. Its character is quite different from that of Ljubljana.
Maribor has a well preserved old city centre with a castle, a famous 13th century church of St. John the Baptist, the remains of a town wall with four defence towers, a medieval market and a number of other buildings from the Renaissance to Baroque and the present day. Referred to as "the city of wine", Maribor is famous for the world's oldest vine, planted well over four hundred years ago. The centre of the city's wine culture is Lent, a picturesque river bank area along the Drava river, where ships used to be unloaded in the past. Over 300 different brands of wine are available from the local wine shop. The city also boasts a huge wine cellar covering an area of 20,000 square metres. Maribor is a vibrant city offering a wide and diverse programme of events. The ensemble of its opera house is widely recognised. The Lent area hosts a popular summer festival and the slopes of the nearby Pohorje mountains the women's Alpine Skiing World Cup competition for the Golden Fox Trophy, held in early January each year.
Maribor and its surrounding areas offer a diverse tourism. The Pohorje mountain range, one of Slovenia's most beautiful scenic areas, is a popular destination for hikers and skiers. A number of spa resorts and wellness centres are located in the city's surrounding areas. Maribor was the European Capital of Culture in 2012. Particular features of the region are Maribor castle (Mariborski grad) ,built by Emperor Frederick III in the 15th century, the Zice Carthusian Monastery, dating from the Middle Ages, the lovely small town of Slovenske Konjice and Ptuj, the oldest Slovenian city with a picturesque medieval city centre.