Bovec and the Soca Valley
- Local and Tourist Information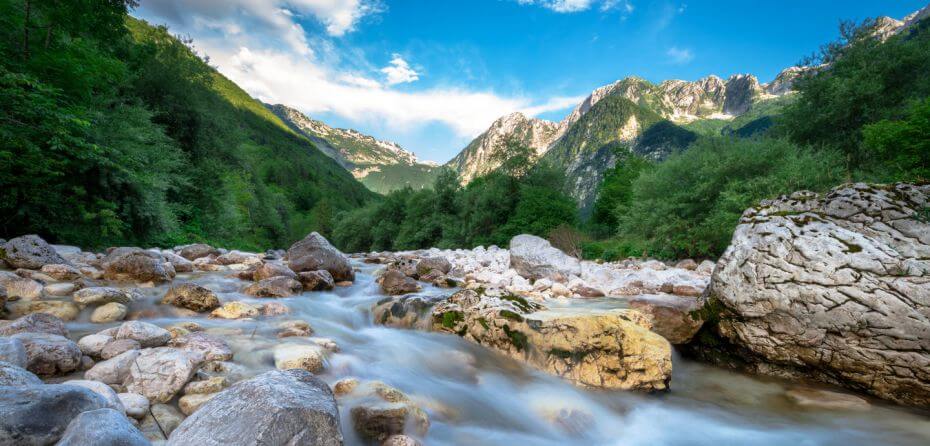 Bovec is the principal town in the beautiful Soca valley. The area is ideal for those who love outdoor activities and adventure sports. Set between the Triglav National Park and the Julian Alps the surrounding scenery is stunning. Activities available are hiking, kayaking, rafting and mountain biking. In winter there is skiing, ice climbing, sledding, skating, cross country skiing and snow shoeing at Kanin, Slovenia's highest resort at 2300 metres, Kanin has 30 kilometres of pistes and you can ski over to Sella Nevia in Italy.
Other attractions in the area include Kluze fortress above a ravine on the Koritnica river and the Kanin mountain bike park. There are bike trails for families and for mountain bike and downhill enthusiasts. In Bovec you will find several companies arranging river rafting, kayaking and other activity sports. .The Soca River also offer excellent trout fishing particularly on the lower reaches.
The Soca river valley provides some of the most breathtaking scenery in Slovenia as the river winds its way from the rugged Julian alps to the famed Tomlin Gorge.
Bovec town provides accommodation restaurants, bars and shopping facilities to serve the region. Lago del Predil, just 25 minutes drive from Bovec into Italy, is a great day out. The crystal clear water in this picturesque lake surrounded by high mountain peaks is warm, enough for swimming in the summer months.