Bohinj
- Local and Tourist Information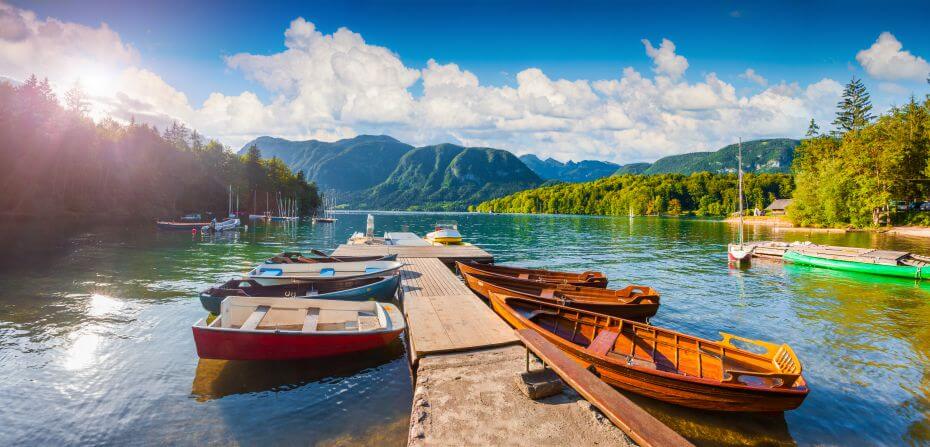 Lake Bohinj
Lake Bohinj with its surroundings is one of the top natural pearls of Slovenia. It lies within the Triglav National Park and is surrounded by the beautiful Julian Alps. Crystal clear water offers bathing between June and September. The pristine natural environment makes Bohinj an attractive destinations for tourists seeking peace and tranquillity and also those wanting to participate in an active holiday.
Bohinj really offers a great variety of activities. Air, rock, water, earth, underground or snow? You will not get bored in Bohinj.
Lake Bohinj is the largest permanent natural lake in Slovenia. It is of glacial-tectonic origins; 4 km in length and a kilometre in width. On the west side the Savica waterfall flows into the lake and on the east side the Jezernica river flows out. Bohinj has an alpine climate; snow in winter but the lake warms up in the summer and is excellent for bathing, kayaking and wind surfing. Most popular bathing locations are in the west side (Ukanc) and mostly on the east side of the lake (near Stara Fuzina and Ribcev Laz). On the north side of the lake the only access is by footpath. Here you will find small romantic bays. Particular tourist attractions include: Bohinj Adrenaline Park, a course is made up of high ropes, climbing nets and swings ranging from heights of 8m to 14m. All supervised by trained instructors; and an International wild flower festival for alpine flowers is held annually.
Our Villas in Bohinj