Ilirska Bistrica and Postojnja
- Local and Tourist Information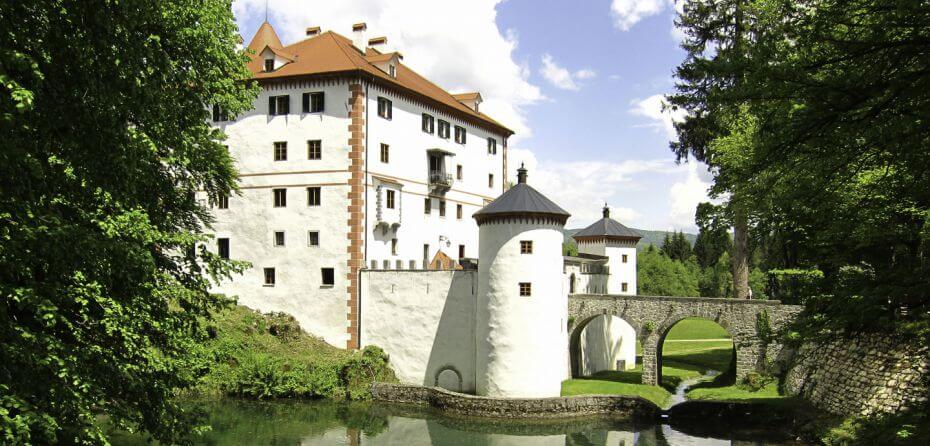 Ilirska Bistrice is the principal town to the south of the Notranjsko Kraska region (The Green Karst or Inner Karst region). This is an area of beautiful countryside, caves, castles and mountains. The region is rich in wildlife and plant life. The famous Postojnja caves are located 30 kilometres to the north of Ilirska Bistica. The Postojna cave system is 24,310 metres long making it one of the largest cave complexes in Europe. A railway track takes you through the first section of caves and from there the cave tour continues on foot.
There are other cave complexes that are open to visitors. The Planina Cave has the largest confluence of subterranean rivers in Europe and in the Krizna Cave you can take a boat trip across an underground lake.
The history of the region can be observed through its castles. Notable of these are Predjama castle and Sneznik castle.
For walkers and hikers there are many marked walking trails and the more adventurous will be drawn to the high peaks of Sneznik (1796m) and Nanos (1313m).
Cycling, horse riding, fishing and bird watching are other activities that are catered for in the Green Karst. Wild life photographers can go bear watch in the Notranjska and Kocevska regions where a series of special hides have been set up to allow photographers to view and film these enchanting animals in the wild.
Our Villas in Ilirska Bistrica and Postojnja