Koper
- Local and Tourist Information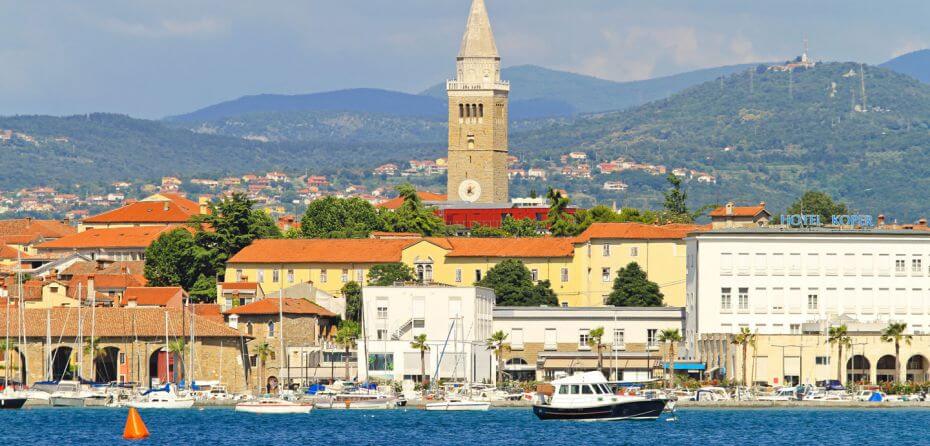 Koper, a thousand year old town with nineteen squares and remnants of an ancient city wall, was previously an island which is now joined to the mainland by a bridge. Paved with white stone, polished by centuries of footsteps, there are cafes, bars and restaurants where you can sit outside enjoying the mild climate of Koper and its gentle breezes. It is close to the Italian border, with both Slovene and Italian as official languages. In the 15th Century, Koper grew to become the capital of the Venetian region in Istria. The city enjoyed an important position within the Venetian Republic, hence its clear Italian architectural influences such as Almerigogna Square, one of the most magnificent Venetian Gothic places in Koper.
There are numerous architectural monuments in the old part of the town, from the Rotunda, with its typical Romanesque exterior, to the Praetorian Palace with the town's coat of arms. In the central square, are a loggia, which has preserved the charm and character of its 15th-century origins, and the cathedral, with paintings by Vittorio Carpacci. The Belgramoni-Tocco Palace houses the Koper Regional Museum. Koper hosts many traditional events, including the Istrian carnival in February, a dance festival and gastronomic event. During summer Sundays, a market takes place in one of the main squares, where artisans and manufacturers of typical Istrian products display and sell their products. Visit for the Yellow Night, which has one of the largest and longest fireworks display and the greatest number of events taking place in the open air, or enjoy the theatre performances taking place within the ancient city walls.
The hinterland of Koper has some fantastic cultural/historic places to see. There is the "Valley of the Castles", with ancient castle ruins along the old borders of disappeared kingdoms. A country path takes you to Hrastovlje with an old Romanesque church which has ancient frescoes, one of them being the world famous Dance Macabre, and on to the tower in Hrvoje, which is the highest point in Slovenia Istria and provides fabulous views. For nature lovers, riders and cyclists there are numerous tracks which lead to the hidden beauty of the waterfalls, rapids and pools of the Dragorija river. Gourmets will also enjoy the amazing variety of good food and wines en route.