Piran and Portoroz
- Local and Tourist Information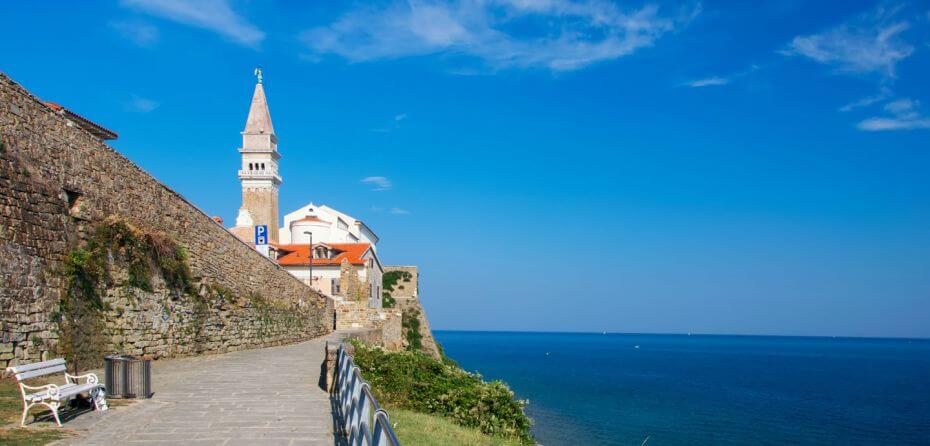 Piran
Piran is an exquisitely beautiful little town, surrounded by a medieval wall built for protective purposes. It is built on a promontory, where pretty stone houses are lined along the seafront, almost as if they could fall into the sea, and more houses behind in narrow cobbled streets. Medieval churches and patrician buildings sit on cobbled squares where cafes and restaurants jostle for space with their colourful parasols and comfortable armchairs.
The city of Piran has a musical tradition and its tourism is very understated, in contrast to its close next door neighbour, the vibrant town of Portoroz which you can reach by a frequent inexpensive bus service. The stunning architecture of the little gem of Piran originates from the medieval Venetian republic, and you could be forgiven to think that you are enjoying your cappuccino somewhere in Italy.
Piran is a small place but there is lots to see and do, climb the steps to the old church, visit the market, galleries and cafes, have fantastic seafood in a harbour restaurant or relax on the pebbly beach. Alternatively, hop over to Portoroz for some nightlife fun and numerous water sports.
Portoroz
Portoroz is the best known tourist resort on the Slovenian Adriatic and was the place to go in the 19th century to enjoy the sea, fresh air, long sandy beaches and spas. Gradually, luxury hotels, sea view apartments and villas have been built there, and now it is a buzzing town with a mixture of grand old architecture and new hotels, dotted along a string of sandy and pebbly beaches.
Portoroz is a very sophisticated town, with a marina, several wellness centres, many excellent restaurants, bars, cafes, nightclubs and three casinos. It has a famous diving school and a whole range of water sports are on offer. The town is covered with pine woodland and wonderful gardens, where terracotta Mediterranean tiled roofs emerge between the pine trees. It has a mild and pleasant climate, and is a great place to come in the summer as well as spring, autumn and winter time. This is a true all-year round resort.
Near to Portoroz there is a beautiful green hinterland with charming villages, olive farms, vineyards and stone cottages. The cottages, refurbished to a high standard, enjoy peace and privacy and are close to country tracks, horse riding and bicycle paths, and you are still only 20 minutes drive from Portoroz. Here you will also find country taverns with open fireplaces, where they grill juicy steaks or locally caught fish, or prepare roast lamb in a dish covered with burning coals. All this is served with wonderful deep red local Barbera or Merlot wines and crisp chilled white Pinots and autochtonous Malvasias from the surrounding hills.
From certain vantage points you can enjoy a view of the Slovenian coastline and the neighbouring countries of Croatia and Italy, and even see the Alpine peaks. A few minutes drive south of Portoroz and you enter the Secovlje Salina Nature Park, a magical nature reserve of old salt marshes where you can find a variety of fish and birds. In and around Portoroz you can swim in the warm and clean sea, explore nature parks and enjoy sports, boating, cycling and tennis. You will enjoy gourmet and rustic cuisine and a vibrant nightlife. It is a good resort for families, couples, groups of friends, in fact everyone.