VILLA MARITIME

Izola, Coastal Region
€1113 - €3759 per week
A rustic and traditional villa in the old fishing town of Izola, comprising of three comfortably furnished apartments. Air-conditioning, WiFi and sauna. Close proximity to beach, tennis courts, city centre and swimming pool.
Bedrooms : 6
Sleeps : 12-15
This homely villa comprising of three apartments in the traditional and sleepy town of Izola on the Slovenian coast. The villa is just 5-10 minutes walk from the beach and the marine centre. In addition, local produce, such as ham, gammon, olives and wines can be delivered directly to the villa at guests requests.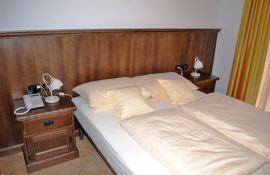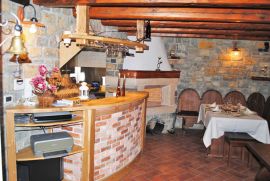 ACCOMMODATION
The villa consists of three apartments, each approximately 60 square metres and containing accommodation for 4-5 people. Each apartment has two double bedrooms with balcony and beautiful views of the gardens. The apartments are on the ground floor of the villa and the owner who lives on the first floor has a completely separate entrance.
Each apartment has a fully equipped kitchen with ceramic cooking plane, fridge, freezer, a set of cooking utensils and tableware, and a dining area for four. The sitting areas are classically furnished with comfortable sofas, which can be transformed into a bed for 1 additional person. There is also satellite TV, DVD player and Wi-Fi internet. Each apartment also has a bathroom with shower and WC. Bathroom towels and bed linen are also provided.
In addition, there is a communal open plan canteen and sitting/dining room with a warm fireplace and seating perfect for dinners with family and friends or celebrations of special occasions.
The property also benefits from a wine cellar stocked with local vintages, and a Finnish sauna with shower and separate WC. Ideal for a completely relaxed holiday.
OUTSIDE
The outside area has a shaded terrace that offers a dining space for 10 people - a fantastic place for evening meals after a day on the nearby beach.
There is also a beautiful fountain in the central garden and outdoor lighting that can make for the most picturesque evening under the stars.
ADDITIONAL INFORMATION
Baby cot available at request
No smoking or pets allowed
Air-conditioning and use of sauna charged separately
Distances
Nearest sandy beach 300m
Nearest supermarket and market 30m
Nearest shop 30m
Nearest restaurant 30m
Nearest airport Trieste, Italy 70km

VILLA LOCATION
---
FLIGHTS AND TRAVEL OPTIONS TO IZOLA
FLIGHT INFORMATION
Slovenia has an international airport (Ljubljana Jože Pučnik Airport) at Brnik, about 25km north of Ljubljana, the capital of Slovenia. Ljubljana airport is convenient for the alpine resorts and the lakes of Bled and Bohine. The airport is 130km to the Slovenian coastline.
Fly to Ljubljana from the UK with Easyjet (from London Stansted or London Gatwick) or British Airways (from London Heathrow).
Other airlines flying direct to Ljubljana are:
Flight details and information can be found at the Ljubljana Jože Pučnik Airport website.
For the western part of Slovenia and the coastline it may be more convenient to fly to to Italy (Trieste, Treviso or Venice Marco Polo). Trieste airport is closer to the western part of Slovenia than Ljubljana airport, just 55km from the Slovenian border. There are flights to Trieste with Ryanair from London Stansted, Valencia in Spain, Bari in Italy and from Malta. Other airlines flying to Trieste are Alitalia from Rome and Milan, and Volotea from Naples.
Another option is to fly to Pula in Croatia. The airport is 80km from the Slovenian border. Fly to Pula from the UK with Ryanair, EasyJet, TUI and British Airways and from Dublin with Air Lingus. There are direct flights from many other European countries including The Netherlands, France, Germany, Belgium, Russia, Switzerland and Italy.

PRICES & AVAILABILITY
Tourist tax is extra at a rate of 3.13 euro per person per day (50% for persons aged 7 to 18 years, free if under 7 years).
A refundable damage deposit of €250 (EUR) is payable on arrival.
A registration fee of €5 (EUR) per person is extra, payable on arrival.
A final cleaning fee of €50 (EUR) is extra, payable on arrival.
Prices are for 4 persons per apartment or 12 people for the Whole Villa.
Price per apartment increases 20% for a fifth person.
Price for Whole Villa increases by 6.7% for each extra person (or total 20% for 3 extra people).
Earliest check-in time is 3.00pm
Latest check-out time is 10.00am
---
Weekly Prices
Period from
Period to
Apartment 1
(4 people)
Apartment 2
(4 people)
Apartment 3
(4 people)
Whole Villa
(12 people)
11 Jan 20
29 May 20
€ 1113
€ 1113
€ 1113
€ 3339
30 May 20
5 Jun 20
€ 1163
€ 1163
€ 1163
€ 3489
6 Jun 20
26 Jun 20
€ 1183
€ 1183
€ 1183
€ 3549
27 Jun 20
3 Jul 20
€ 1213
€ 1213
€ 1213
€ 3639
4 Jul 20
28 Aug 20
€ 1253
€ 1253
€ 1253
€ 3759
29 Aug 20
4 Sep 20
€ 1213
€ 1213
€ 1213
€ 3639
5 Sep 20
25 Sep 20
€ 1183
€ 1183
€ 1183
€ 3549
26 Sep 20
2 Oct 20
€ 1163
€ 1163
€ 1163
€ 3489
3 Oct 20
18 Dec 20
€ 1113
€ 1113
€ 1113
€ 3339
19 Dec 20
25 Dec 20
€ 1153
€ 1153
€ 1153
€ 3459
26 Dec 20
1 Jan 21
€ 1253
€ 1253
€ 1253
€ 3759

TO BOOK
Please email or contact us to make a provisional reservation. Then download and complete the booking form.